In my day there were two royals, Prince Charles and Princess Anne and then the two little boys, you know, Andrew and Edward. We wore mini-skirts, they wore tweed hacking-jackets; we went to Rolling Stones concerts, they played polo.

Then . . . Princess Diana RIP, may the heavens weep, who single-handedly brought style and glamour to the royal family (the Bruce Oldfield dresses!)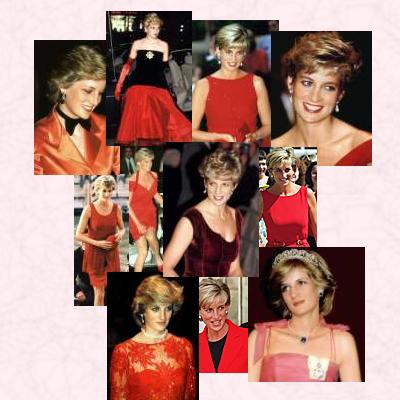 Hadley Freeman has a piece today on the younger royals, as photographed in the family snaps for the Queen's 60th wedding anniversary, featured in Hello:

Zara Phillips, on the other hand, was the first to catch my eye on the magazine cover, mainly because she was wearing an empire-line silver coat with white buttons and collar from Paul and Joe's diffusion range, Paul and Joe Sister, that I had just that week tried on but rejected as too expensive, so, obviously, I was filled with a mix of both approval and murderous hatred. Perhaps that coat is slightly infantalising, a bit too Bonpoint for adults, but it's certainly an improvement on the sweeping pale tweed numbers favoured by most female royals, to say nothing of the sludgy fare generally sported by her mother, Princess Anne. Moreover, she wore it with a short dress, black tights, black shoes and black gloves, which is just how I was planning to wear it (the witch), which obviously makes it good, and, impressively, she also managed to find a hat that was suitably respectful but neither hideous nor laughable.


Her brother, on the other hand, is a different story. Even if Peter Phillips wasn't officially royal, with his penchant for badly fitted brass-buttoned blazers, bagging jeans and a hairline that recedes in direct correlation to his advancing paunch, I would assume that he was the product of youthful sowing of the royal oaks by any of Elizabeth's children if I bumped into him on the tube. Such is the strength of his royal style genes that he, like his cousin William, has managed to Sloanify his girlfriend. In the most recent pictures of the soon-to-be-married couple, Autumn Kelly has comfortably shifted from her former life as what one newspaper has intriguingly described as a "Canadian former air hostess, bartender and model" into a fully paid-up kitten-heel-wearing, sunglasses-as-alice-band-adorned Sloane, with a fondness for pastel wraparound cardigans. Well, they go so well with one's boyfriend's broad-shouldered blazers.