Saturday, 5 July 2008
Posted by Linda Grant at 14:02 1 comments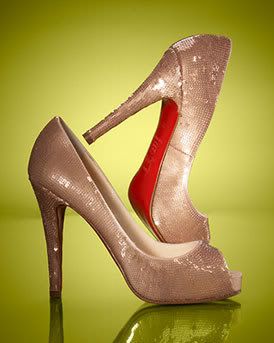 Which is good, because I have a pair of Louboutins - jewelled velvet wedges I got for half price at a Vogue sample sale.


But perhaps the key to his current success (he's overtaken St Manolo as aspirational shoe god, for heaven's sake) is those red soles. Louboutin claims these happened serendipitously. "When the first prototype arrived, it had a big black sole. Dead!" He grabbed his assistant's nail polish and began painting. "Immediately, the shoe came back to life.'' He thought he would change the sole each season. "But red is more than a colour. It is a symbol of love, of blood, of passion. It's like the handkerchief that an elegant woman dropped if she saw a man whom she was attracted to."

It's also highly visible, in a way no business school graduate would ever imagine. Every time a woman climbs a staircase, crosses her legs, click-clacks down the street, it flashes away, a symbol – never mind blood, passion and love – of a shoe that cost a fortune. When a model mooches down the catwalk in Louboutins, the audience identifies them immediately. No wonder he eschews obvious logos: that red sole is genius – a status symbol that purports not to be a status symbol.




Posted by Linda Grant at 07:35 12 comments  

Labels: Christian Louboutin, Shoes