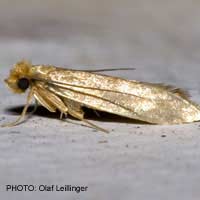 The location of the moth infestation has been isolated to the hall carpet at the top of the stairs. They are breeding in the place where the carpet meets the wall and subsequently massing into the bedroom where there is a scrumptious banquet of cashmere and other items..

The following actions have been taken:

1. With my moth genocide kit I first sprayed clouds of deadly moth exterminator about.
2. Next I sprayed the walls and carpet with insecticide
3. Next I hoovered up a lot of dead and dying moths and applied a crevice tool to the carpet
4. Then I set down traps, which are little open cages with a sticky strip on them dosed in something which attracts male moths in the hopes of some high class nookie, But actually kills them. The females fly about uselessly with no moth Mr Darcy to impregnate them, like characters out of Bridget Jones or Sex in the City.

The result today is that there are lot of dead moths in the traps and lying around on the carpet and no signs as yet of any live ones.

But our enemies are legion and they are cunning and cruel. I do not believe we have reached VE day yet.