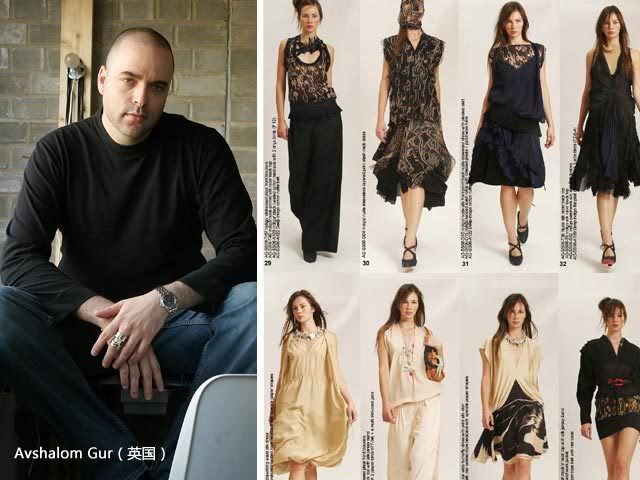 I spent a fascinating Wednesday morning talking to the people at Ossie Clark London who are trying to revive the name for the 21st century.

Here's my piece from the Guardian today and here's a picture of the lovely Avish Alom Gur who is at the helm of the new enterprise and these are the clothes from his on collection:

I was in the reading room of the British Library in August 1996 when I took a break, opened the newspaper, and read that Ossie Clark had been killed by his ex-lover. It seemed the most colossal waste of such a talent, but it also returned me with a strong pang of nostalgia to those years in my early 20s spent floating around a university campus in an Ossie Clark-style dress with no thoughts of job, career or mortgage. Clark was about a careless, romantic, unstructured femininity; life lived in a slightly druggy haze. There was nothing practical, no office life. Ossie Clark was above all about the dress.

Three names defined 60s fashion in Britain: Mary Quant, Biba and the boutique Quorum owned by Alice Pollock, which sold the work of Clark and his wife and partner, the pattern-designer Celia Birtwell. You could not be young and alive in the late 60s and early 70s without wearing something that had its origins in the brain and fingers of Ossie Clark, his 30s and 40s-style chiffon dresses, often cut on the bias, in Birtwell's beautiful prints.

Clark was an utterly brilliant flash in the pan; he came from nowhere (actually Warrington in Cheshire and later Oswaldtwistle in Lancashire, where he grew up) and his brief place in British fashion lasted less than a decade, from 1966 to 1974, though so decisive an imprint did he make on what we wore, that it seems far longer.

. . .

It is not unknown for labels to come back from the almost dead. Lanvin was still going, but in a dusty kind of way when Alber Elbaz revived it five years ago, yet Ossie Clark was not just a label but the man himself. He said he was a "master cutter. It's all in my brain and fingers and there's no one in the world to touch me. I can do everything myself." Gur, who like Elbaz trained at the Shenkar College of Engineering and Design in Israel, is quiet, sweet and doesn't go to parties. "I'm a workaholic, a nutter, I've never been a party boy," he says. He grew up in the Negev desert, surrounded by Bedouin; his father was a German Holocaust survivor.

Fashion has changed, he says. "It's an industry; you can't live your life the way they did in the 60s. It's mission impossible to take something from the past with all its stories - and politics, which is something I'm not interested in - and bring this into the 21st and even the 22nd century. The shape, cutting on the bias and the use of print, the amazing tailoring and construction, the fit ..."